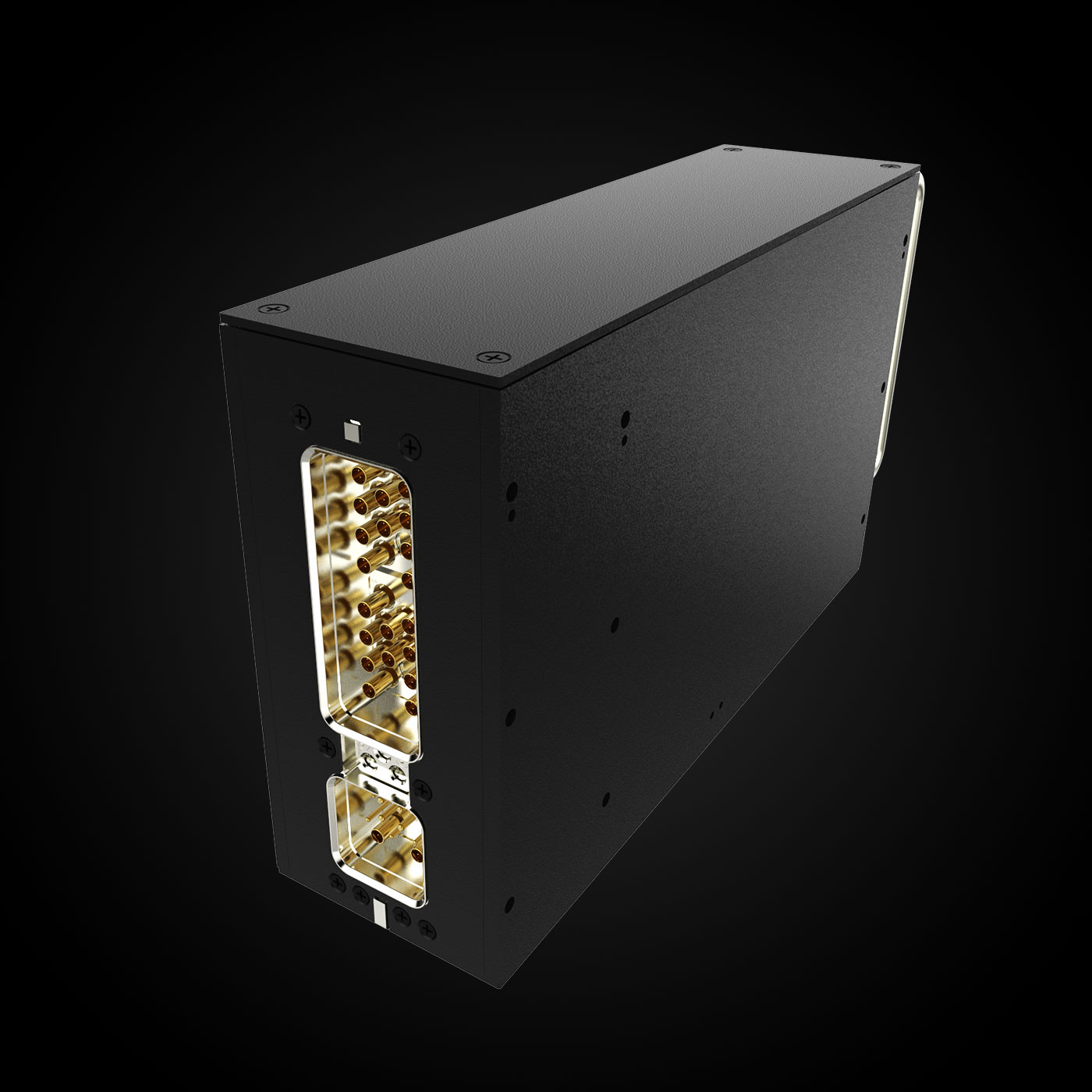 Secure Tactical Server
The STS or Secure Tactical Server has a conduction cooled 3-MCU ATR chassis, which supports up to two SBCs, one dedicated RAID controller, and four SATA 2.5-inch solid-state drives (SSD) with a maximum storage capacity of 4 Terabytes. The FTS incorporates two Gigabit Ethernet switches and a self-contained power supply that utilizes 28 Vdc input power. The SBCs utilize the latest Intel or NXP Processors with up to 64 Gigabytes of DDR4 RAM and 8 Gigabytes of flash memory. Gigabit Ethernet, 10/100Tx Ethernet, serial, and USB I/O interfaces come out of the system through a single ARINC 600 Series, Size 2 connector, with the 11 Gigabit Ethernet ports provided through Quadrax connections. A custom cPCI backplane accommodates two 6U SBC slots, one RAID storage array (RSA) slots, and one power supply slot. The equipment design incorporates cutting edge environmental management techniques that protect internal components from the effects of shock, vibration, and electromagnetic interference. The STS is ready for deployment in manned/unmanned rugged environments on airborne, shipboard, or ground-mobile platforms.
Are you interested in this product?
REQUEST INFORMATION NOW
Performance Specifications
Processor upto 24 cores of Intel or NXP
System upto 64 Gigabyts DDR4 RAM
16 Gigabytes of Program Storage
Data Storage Two to four 2.5″ SATA Solid State Drives
Data Capacity 256 GB to 4 TB
Backplane cPCI
I/O Interfaces Gigabit Ethernet (11), 10/100 Ethernet (2), Serial (4), USB (2)
Input Voltage 28 Vdc
Operating System Windows or Linux
Dimensions 3.56″ wide x 7.64″ high x 12.52″ deep
Weight 18 lb
Mounting MCU tray, table-top with/without isolators
Environmental Specifications
Operating Temperature -40° to +55°C
Extended Operating Temperature -55° to +85°C
Storage Temperature -55° to +85°C
Operating Altitude 65,000 feet
Non-Operating Decompression 8,000 to 65,000 feet in 15 seconds
Humidity 10 to 90% non-condensing
Vibration MIL-STD-810F, 2.6 grms
Shock 20 g, 11 ms
EMI/EMC MIL-STD-461E
Power Transients MIL-STD-704F
Features
Supports data capacity expansion
Dedicated RAID controller
Enterprise grade data encryption
Conduction cooled
Gigabit Ethernet switches
Compact PCI backplane
Options
NSA certified sanitization (fast erase)
HEMP and TEMPEST
MCU mounting tray
Diagnostic lid
Lab mounting tray (breakout panel)
Lab cooling fins